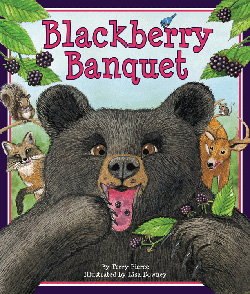 I have a treat for y'all today! It's been a while since I've hosted an author on my blog, and today I'd like to introduce you to
Terry Pierce
, author of the new
BLACKBERRY BANQUET
, illustrated by
Lisa Downey
and published by
Sylvan Dell
. (They also publish my friend
Karen Lee's
books.)
When Sylvan Dell approached me to host Terry, I couldn't resist. I mean,
Blackberries!?
I have spent many a summer picking blackberries. I had to ask Terry about her inspiration:
Hi Terry!
I love picking blackberries, so you're new picture book BLACKBERRY BANQUET immediately resonated with me. Do you have a history involving blackberries? What was the inspiration for your story?
Ahh, a fellow blackberry-lover! Yes, I've always loved picking wild blackberries, which started as a kid living in Washington State (who would have known I'd end up writing a book about them!). My mom would send my brother and me to pick berries with the promise of a blackberry pie as our reward.
As an adult, I carried on the tradition and picked berries with my son (also with the promise of a pie :-). I always thought it would be a fun topic for a book. I tinkered with a couple of ideas, including an easy reader, but it wasn't until one day, when I was approaching my favorite berry bush near Hood River, Oregon, that the muse struck. As a flurry of animals fled from the bush, I imagined what it would be like if a bear had approached the bush instead. I immediately started writing the story, although it took a couple of years for it all to come to fruition.
"To fruition" Terry? Oh, you did not - LOL! Where were the best blackberry patches in your memory?
Anywhere in the Pacific Northwest! As a child, there was a huge field of berry bushes on the hill below where I lived on Mercer Island, Washington. My favorite spot, as an adult, is near Viento State Park in Oregon, where my family vacations annually. There was a fabulous bush in open sunshine that had the plumpest, sweetest berries. Sadly, the state tore it out when they decided to develop a parking area for the windsurfers to have easier access to the Columbia River (but there are still others nearby, so I don't hold it against them).


I once stepped on a copperhead while picking blackberries, but we were both so relaxed, I just lifted up my foot and he slithered on his way. Tell us more about some of the critters you've run into while picking blackberries.
Oh my! I'm glad berry picking is so relaxing and nobody got hurt! I often hear small critters rustling around in the bushes—mostly birds, chipmunks, squirrels or mice. The incident I mentioned above, though, was particularly funny because there were so many animals fleeing from the bush. I felt like I had crashed a party.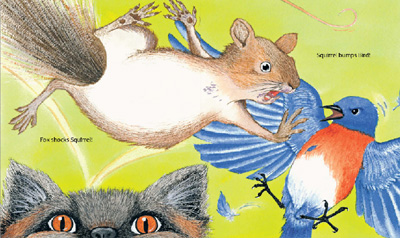 I love the scenes of pandemonium in BLACKBERRY BANQUET when the bear appears. How did you feel about the illustrations when you saw them for the first time?
Didn't Lisa Downey do a great job with the illustrations? Well, as corny as this seems, I actually teared up when I saw them for the first time. It's an amazing feeling to see your words turn into art. To me, it's an extraordinary process. One of my favorite scenes is when the bear and deer are facing each other. Lisa mastered catching their facial expressions. She carried this throughout the book, which is wonderful because very young children can still see the story through the art, even if they're just looking at the pictures.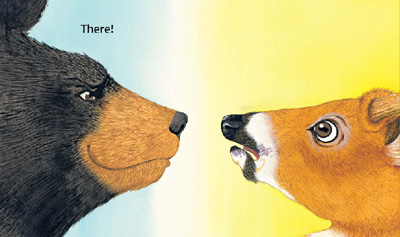 Have you read BLACKBERRY BANQUET to many kids yet? Do they just love all the sound effects?
Not yet! The book just came out in late May, so I haven't had a chance to read it to any children. However, I'm looking forward to quite a few signings this summer and school visits next year. The story has great read-aloud potential with the repetition and animal sounds, so it should be a hoot to read.

What is your favorite thing to make with blackberries? Mind sharing the recipe if there is one?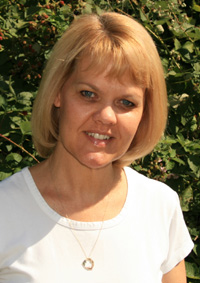 No doubt, it's blackberry pie, à la mode. I LOVE blackberry pie. I could eat it for breakfast, lunch and dinner! I've spent hours, no years, perfecting the art of making the perfect blackberry pie. It's a classic fruit pie—I mean, blackberries are so delicious, why add cream fillings or other such things?
I also have some other fun recipes that I've posted on my blog on behalf of my book's characters (you know how those forest animals always want to be in the limelight). If you go to my blog at
http://www.terrypierce.blogspot.com
and look in the Categories on the right side, click on Recipes and they'll come up. In fact, this week is when Bear is sharing his recipe for Bear's Blackberry Pie. Okay, I'll fess up—it's MY recipe but that rascally ol' bear stole it from me! Top a warm piece with some vanilla ice cream and you've got one of the best things about summer ;-).
YUM! Well, we obviously share a passion for blackberries, Terry. And I think anybody else who has fond memories of picking blackberries, or blueberries, or raspberries, or . . . will get a real kick out of BLACKBERRY BANQUET. Thanks for being a guest on dulemba.com!
Thanks so much, Elizabeth! These were fun questions to answer.
To learn more about Terry, visit the other stops on her blog book tour:
Karen Lee's Blog
(Monday)
BookBuds
(Wednesday)
Anastasia Suen's Blog
(Thursday)
Picture Book of the Day
(Friday)
Labels: BlogBookTour