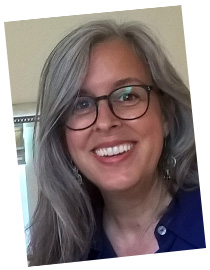 Friends call her "e," students call her "Dr. e." She is an award-winning illustrator, author, professor, blogger, and speaker (including her TED Talk with over a million views on YouTube). She has over three-dozen books to her credit, including her debut novel, A Bird on Water Street, for which she was named Georgia Author of the Year. (She illustrated the newest edition for Sourcebooks, released in November 2019.) Three of her recent picture books as illustrator were written by New York Times Best-selling author, Jane Yolen: Merbaby's Lullaby (2019), Crow Not Crow (2018), and On Eagle Cove (2020). Her newest title, Teacup, is published under the pseudonym of Bae Broughton, after the street she lived on in Scotland.
Dr. e is the Director of Graduate Programs in Children's Literature and Illustration at Hollins University. Prior to this, she was Program Director and Associate Professor of Illustration at Winthrop University. She has also taught Illustration at the University of Georgia, and writing and illustration courses at schools and conferences internationally.
She holds a PhD from the University of Glasgow School of Education in Children's Literature, where she also earned an Associate Fellow Recognising Excellence in Teaching (RET), and a Fellowship of the Higher Education Academy (HEA). She also holds an MFA in Illustration (with Distinction) from the University of Edinburgh, and a BFA in Graphic Design from the University of Georgia.
Dr. e spent several years as Illustrator Coordinator for the US southern region of the Society of Children's Book Writers and Illustrators and as a Board Member for the Georgia Center for the Book. Through these roles she created annual Illustrator's Day conferences, gallery shows, regional and state-wide awards, and scholarship programs, connecting the local community and helping hundreds of up-and-coming creatives.
Prior to her career in teaching and children's literature, Dr. e spent over a decade as a corporate Art Director and in-house illustrator for packaging, apparel, and communications firms.
She grew up in the American south (Atlanta and its surrounds); lived four years in Edinburgh, Scotland; spent a summer in Paris as a college exchange student; and lived another four years in a cabin in the Appalachian Mountains. She was married for 21 years to Stan Dulemba, who passed away in November 2022. She recently moved to Roanoke, Virginia to take the MFA in Children's Book Writing and Illustrating program to a year-round offering alongside the well-established summer-only program, and to begin a new life chapter. Sign up for Dr. e's newsletter to read author/illustrator interviews, download free giveaways, and follow her adventures.

Awards
Past Events and Speaking Engagements
Courses Taught
Interviews
Interviews with Other Creators
Media
Client List
About Her Visits
Consulting
All Artwork © Elizabeth O. Dulemba - Y'all play nice, Okay?