Frequently Asked Questions:
To go straight to examples of how I work, click HERE.

I am often asked if I am available to illustrate stories by unpublished writers. The fact is, although I'm flattered, you don't need to include illustrations with your manuscript when you submit it to publishers. They actually prefer you don't. If you are a new writer, you may find my article helpful: How do I get published?
Another great resource is the article: 10 FAQs About Children's Book Publishing at the Society of Children's Book Writers and Illustrators website.
A new service has just popped up in the publishing world. It's called f1rst pages. Editor Eileen Robinson (formerly of Scholastic) has pulled together several editors straight from the children's publishing world to offer first page reviews. It is not free, and does not guarantee publication, but the crew is top notch and it's something you may want to look in to.
This particular interview by a student in Virginia covered so many questions I often recieve, I have included it here:


Dear Mrs. Dulemba,
Thank you so much for taking your time to give me an interview!!! I appreciate it very much. Some questions I'd like to ask you are:

1. What skills does an illustrator need?
Talent is the first thing. Most illustrators were recognized at some point in their young life as having an ability to draw above their age level. But the ability to draw isn't everything. Some illustrators have done well because they have a distinct style or unique look - and not all of them draw well.

2. Besides drawing for books, what else do book illustrators do?
A myriad of things. I have a background in graphic design, so I have created logos, designed brochures and web sites, you name it. Some illustrators create greeting cards or design rubber stamps, prints for clothing/wrapping paper/wallpaper, or package illustrations. The best way to see what illustrators do is walk through a large store. Art is everywhere, from the t-shirts you wear to the directions used to assemble things.

3. What training or education must you receive before pursuing your career?
After a lifetime of art lessons, I went to college and got a Bachelor of Fine Arts degree in Graphic Design from The University of Georgia. It was a good thing for me. I learned skills which I applied in my career, and I used that time to grow personally.
There are specialized colleges and schools which teach nothing but art, such as the Rhode Island School of Design or the Ringling School of Art and Design. I would have enjoyed that type of education as well. There's a lot of trial and error with art, trying to figure out what your personal style or medium is. Those specialized schools offer an opportunity to learn several different methods and zoom in on your preferences faster.
But there is an ongoing debate in the art world as to whether one needs higher education to be an artist. Talent is talent. That and a good work ethic will get most artists where they want to be. Some people feel it's better to learn the craft by doing it in the "real world" instead of going to college. I personally believe skills need time to develop, great artists don't always start out that way.

4. What has influenced you as an illustrator?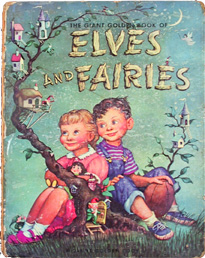 I'm a visual person and everything influences me. Sometimes I think talent is just the ability to really observe and recall everything you see a little better than others.
I trace my desire to write and illustrate children's books back to THE GIANT GOLDEN BOOK OF ELVES AND FAIRIES illustrated by Garth Williams and printed by Simon and Schuster in 1951. It was my mother's book as a child, and is one of my treasures now. The binding is falling apart from all the times I have absorbed the wonderful illustrations in that book. A reprint is now available on Amazon (click the cover).


5. How long does it usually take to get a book published?
This is the big question. Starting as an unknown, it takes years. It took me three years of hard full-time work to break into the field of children's picture books (I've been told that was very fast). The problem is everybody believes writing a children's book is easy, and they flood the market with their attempts. There are more people trying to become children's book writers than there are contracts to give. One of my favorite quotes is by Mem Fox, "Writing a picture book is like writing WAR AND PEACE in Haiku." Even as an illustrator, it's difficult to break in. But once in, doors begin to open if you are able to follow through with excellent work and meet deadlines.
There are some great resources available to beginners: The Society of Children's Book Writers and Illustrators (SCBWI), online message boards such as Children's Writers and Illustrators and Picture-Books, and http://yellapalooza.com.

6. Can you please explain the process/steps it takes to complete a picture book?
A standard picture book is 32 pages or 14 spreads. It is easier for a printer to lay out books in multiples of 8. Why? Fold a piece of paper in half, and then in half again. Count the sides - 8 right? :)
To begin, I take the text and break it up to fit the pages. This is called creating a "dummy" and is a great way to see if the text is working or if it needs some tweaking. Then I roughly sketch the images I see working with the text. From the rough sketches, I do tight pencil sketches. I draw the elements by hand and scan them into my computer where I arrange the layout in Photoshop. Once the pencil sketches are approved, I render them in Painter (again on the computer). I burn the final art to a CD and send it to the book designer. Since I work digitally, I skip the step where flat art needs to be photographed and scanned into digital form. Once the book designer has the art, they lay out the entire book. Then it's off to the printer. Voila!
These are some drawings from THE PRINCE'S DIARY by Renee Ting, Shen's Books, 2005.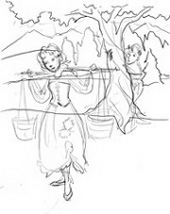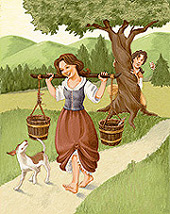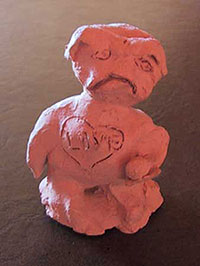 7. When did you know that you wanted to be an illustrator?
Honestly, when I was about six years old. My most prized possession is a statue I made for what was supposed to be a project making pinch pots. The adults in my life immediately noticed I had some talent. Don't ask me why he's frowning - I don't remember. Whenever I doubt myself, I look at my little dude.

8. What inspires you?
Everything. Truly, part of being an artist is about observing the world around you.

9. How did you get into illustrating?
I took the slow route in. As a single gal living on her own, a steady paycheck was very important to me when I started out. Freelance illustration can be a highly irregular income and scary to rely on. So I worked for a children's clothing company, designing the art for the clothing (mostly Snoopy and Charlie Brown). Then I worked for a packaging company, designing the art for candy packages (Brach's and MoonPie). Then I went into a strong graphics job working for a communications/advertising firm. I did everything from brochures to web sites. Everywhere I worked, I was the "in-house illustrator," even during my stints as Art Director.
When I married, I finally had a chance to become an illustrator full-time (without worrying about a roof over my head). It's taken a lot of work and a lot of investment in personal advertising. For example, I send out regular postcards to Art Directors advertising my online portfolio.

10. Is there a certain genre/style of story that you prefer to draw for?
Anything for the children's market is my preference. But I also love drawing nice monsters. I love to create creatures who have no rules about how they should look, they have no limitations.

11. I love drawing and I possibly plan on being an illustrator, what advice would you give to an amateur artist like me?
The first thing is to decide if that's really what you want to do. I have a saying, "you are an illustrator if you cannot NOT do it." Deep inside you know if it's something you HAVE to do. This is not an easy profession. You will have lots of obstacles against you (and you won't get rich), so be prepared.
First, take as many art lessons as you can. Draw with references and without. Take your sketch pad with you everywhere and draw, draw. Draw people, buildings, everything. Finish your drawings. Sketching is fun, but come up with truly finished pieces as well. Start a portfolio for yourself, a group of 10 to 12 of your best pieces, and constantly work to make that portfolio look the best it can, constantly replacing the old with the new. Read my article, "Present Your Portfolio Like a Pro."
Most importantly, do research. Look at online portfolios and portfolio search engines. See what level of work is out there and strive to be better. Some great sites to check out are:
http://www.childrensillustrators.com/
http://picture-book.com/
http://www.picturebookartists.org/
http://theispot.com/
http://www.folioplanet.com/
When you're ready, think about setting up your own online portfolio, there are many free options available which I list in my links. I also have a tutorial on creating an easy online portfolio using a blog, and a more in depth article on creating your own website in my LINKS section under "My Articles."
The sooner you can start acting professional with your work the easier it will be for you when you get out there.

12. I love the fact that you write and illustrate, do you enjoy illustrating your own stories more, or another author's?
Of course I enjoy illustrating my own the best! However, it can also be more challenging because I know what I want it to look like, and well, I'm a tough boss.

13. Your pictures are amazing, what type of materials do you use?
Thank you! Most of my recent art starts as a pencil sketch, is laid out in Adobe Photoshop and rendered in Corel Painter on my Mac G5. What I love about Painter is I am finally able to achieve looks I tried to achieve with other media and wasn't able to get. But I also enjoy pen and ink, colored pencils and markers.
I have no patience for mixing colors (a leftover from the speedy world of graphic design - I like to work fast) so I am not a painter.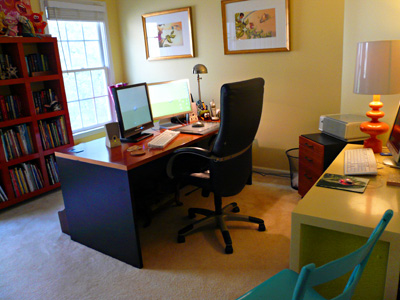 14. Usually artists have a studio or workplace. Where is yours and why is it chosen at that location?
I redid my office not too long ago and you can see it close up at http://www.dulemba.com/2008/06/office-redo.html.
Most days, this is the view from my chair - our doggies Bernie and Cajun, who often appear in my books (see the illustration from THE PRINCE'S DIARY above), keep me company. Our cat, Boots, is behind the scenes directing, although most of the time she's sitting on my desk between me and my keyboard.

15. Since you're in the Society of Book Writers and Illustrator what is your role in that organization? What do you do?
The SCBWI has been a fantastic organization for me. I've attended and spoken at several conferences, contributed to the newsletter, and made lots of contacts. I am constantly researching to keep up with the business, and the SCBWI offers several resources to do that. I'm now the Illustrators' Coordinator for my region and it's opened a world of opportunities to me.

And the last question I have for you is if you aren't busy, would you mind drawing me a picture to show your technique or style? If you can't it is ok.
How about I share "bored Queen." I just drew her for fun, but she's a good example of my process. First there's the rough pencil which I draw by hand, then scan. In Photoshop, I clean up the pencil drawing, creating a new version with my Wacom tablet and pen mouse. I set that layer to "multiply" which makes it transparent to layers below. I then apply flat color on a new lower layer. At this point, I pull my image into another program called Painter. Here I render the art mostly with the oil brush feature. Once finished, I pull it back into Photoshop, which is more true to color, and make any adjustments (you can see here I changed the curtain colors) before saving a final flat version.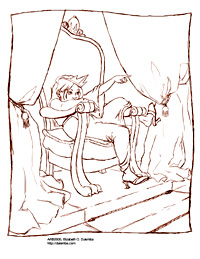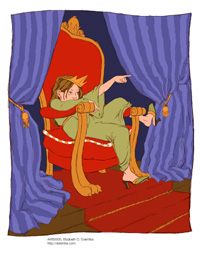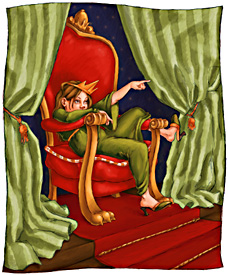 Click the image to see a larger version.
Thank you so much for taking your time, once again! Thank you soooooo much! I really appreciate it, this really helps me! Thank you, and best wishes.
Your Fan,

Ken
Thank you Ken!
[top]
All Artwork © Elizabeth O. Dulemba - Y'all play nice, Okay?