TECHNOLOGY AND READING
(This page was created in 2011 and has not been updated to reflect the current market.
Think of it more as a brief history of apps.)

A Magazine Is an iPad That Does Not Work


The Apple iPod was released in January 2001.
The Apple iphone went on sale June 29, 2007.
The Kindle went on sale in November 2007, ran out and was out of stock until April 2008.
Meanwhile...


- by Mashable

The iPad was announced in January, 2010 and went on sale April, 2010.
The Kindle 3 (the $139 version) was announced in July 2010.
Our world hasn't been the same since...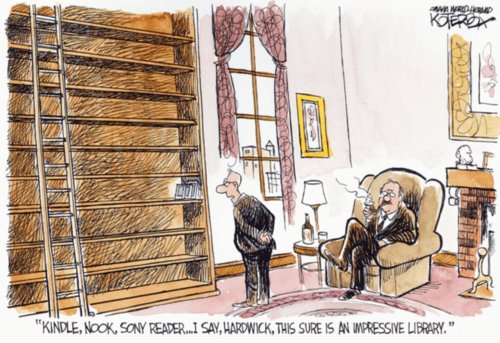 How is the market responding?
E-book Sales Jump in June, Print Plunges
E-book sales rose 167% in June, to $80.2 million, at the 15 houses that reported figures to AAP's monthly sales report and closed the first half of the year with sales up 161%, to $473.8 million. In addition to e-books, downloadable audio sales (up 25%), and the religious books and university press segments were the only categories to post gains in the month.
The major trade segments took big hits in June due in part to the closing of more Borders stores. Trade paperback sales had the largest decline, down 64%, while children's hardcover sales were off 31%. Adult hardcover sales fell 25%, mass market sales were down 22% and children's paperback was off 13%. Sales in all the trade segments were also off by more than 10% for the first half of the year.
- Publishers Weekly, September 12, 2011

Devices

| | | | |
| --- | --- | --- | --- |
| Apple iPhone | Apple iPad | Amazon Kindle | Barnes & Noble Nook |

Sony PRS 505

Toshiba Libretto W100

Copia 3

Nook Simple Touch Reader
A BRIEF HISTORY OF APPS

iStorytime (August 2009)

Wheels of the Bus by Duck, Duck Moose (August 2009)
LULA'S BREW (September 2009)

Kidztory (February, 2010)

Miss Spider's Tea Party for iPad (April, 2010) by David Kirk - Callaway Digital Arts

Alice in Wonderland (April 2010) AtomicAntelope

A Present for Milo, Ruckus Media (Scholastic) December 2010
Started by Rick Richter, former President, Children's Division, S&S

The Fantastic Flying Books fo Mr. Morris Lessmore (May 2011) by Moonbot Studios (William Joyce)


Apps vs. eBooks
eBooks are flowing text. Images, videos and sounds can be locked within the text, however, images cannot be full bleed (won't run off edge) or fixed in place (to allow for resizable text). There is one exception to this - the TRON picture eBook. The tech is coming for full bleed eBooks, but not readily available yet.
Apps are mini programs/software, which means they can be absolutely anything from eBooks to full blown movies.

READING SOFTWARE
Google Editions | Blio | Copia | Kobo
The e-Reader App Showdown (article by Unplggd)

eBook Stores
Amazon (Kindle), B&N (Nook), Apple (iPhone/Pad), Google, Sony, Blio
New: Windowshop by Amazon

Loaning eBooks
Lendle
Overdrive eBook Lending
How to check out an app or eBook from your library


Signing eBooks
Kindlegraph



Negatives
DRM (digital rights management) - prevents books from being cross-platform
"high energy use (manufacture, maintenance)
short use life (landfill, chop shop)
fragile (water, banging, crushing, dust, extreme heat)
prone to theft (pawnable)
vulnerable to unavailability of energy
vulnerable to hacking/altering/recall, cf. the row over 1984" - Betsy James
POSITIVES
Easy access to more titles
Take up less space
Adjustable text size
Can travel with several titles without bulk
Smaller investment on books that aren't 'keepers'
People are reading more than ever



COMPARE AND CONTRAST DEVICES, SERVICES, WHAT YOU CAN READ ON WHAT - CLICK HERE.

File Formats
.pdf | ePub | .mobi | Microsoft XPS (Quark) | Apps

How to Publish to Various Devices
KINDLE:
Sizing files for Kindle (read this first)
Establish account with Kindle Direct Publishing
Formatting for Kindle (text document)
Publishing Your Picture Book on Kindle
Amazon's Kindle Publishing Guidelines for InDesign
Kindle Print Replica Content
NOOK:
Creating a B&N Nook Picture Book (at e is for Book)
Establish an account with Pubit!
ANDROID:
App Maker for Android
How To: Make Your Own Mobile Apps for the Android Market
xlarge screens are at least 960dp x 720dp
large screens are at least 640dp x 480dp
normal screens are at least 470dp x 320dp
small screens are at least 426dp x 320dp




Children's App and eBook Developers
iStorytime (How to Train Your Dragon), PicPocketBooks, Ruckus Media Group, ScrollMotion - IcebergKids (Curious George), MeeGenius!, Aptara, Comixology (comic books), Dynamicbooks (educational), Enhanced Editions (Philip Pullman), iKids Applications, Kidzongs (music apps), kidztory (Little Red Hen), Panelfly (graphic novels), Toy Lounge, Yapper, eBook Architects, TouchyBooks, Callaway Digital Arts, Fourth Story Media, Auryn.com, WingedChariot, be there bedtime stories

DIY Development Software, Resources, and Composers
Sigil - an online WYSIWYG ebook editor
How to export for EPub from InDesign
Cult of Mac: Convert Any Document Into an eBook Viewable in iBooks [How to]
How To Self-Publish Anything Online
My 1st iPhone/iPad Picture Book App
Book Baby
Scrivner
Moglue (beta)
FastPencil
Interactive Touch Books
Interact Books
Demibooks
Active Reader
Carona (annual fee to use software)
Digital Book-making Tools: A Roundup at A New Kind of Book
TaleSpring
Kwiksher (this one is gaining in popularity along with Carona but requires Intel photoshop CS5 or 5.5)
Making eBooks using Mac Pages
9 digital bookmaking tools list by Amazing News (Demibooks Composer, My Story Book For the iPad, Aquafadas, Active Reader, Atavist, Moglue, Interactbuilder, App Press, and LeanPub).
Tumult Hype (animation program for HTML5)
Tikatok.com - for KIDS to create their own apps and have them published... in paper!

eBook Developer Stores
moglue
uTales (Emma Dryden, former VP, Pub. at S&S Children's)
Interactive Touch Books
MeeGenius - my books: SOAP, SOAP, SOAP and PACO AND THE GIANT CHILE PLANT
blio
copia
A Story Before Bed
Ripple Read to Me
The Illustrated Section PDFs (where one of my books is available)
INscribe Digital (an interesting company to watch)
MeeGenius! (where two of my books are available)
Book Creator

Audio Recording Support
Garage Band with sound editing in "Logic" or "Logic Pro"
iPhone Memo recorder
Katie Davis uses an Edirol digital recorder (new version called Roland something...)
digital camera, or digital video camera, tweak the sound in "Audacity" (free editor)
Sony PCM-M10 (built in stereo microphones, hard drive, connects to computer - iPhone size)
lav microphone (edit in Garage Band)
Snowball microphone from Fry
Zoom H2 Portable Sound Recorder

Royalty Free Sounds effects and music
NeoSounds
StockMusicSite
Incompetech (Kevin McCleod)
FotoSearch

ISSUES BEING SURMOUNTED
The "Is it Okay for Kids?" question... Is iPhone Good for my Kid? Hits and Misses
Local Inventors create way to autograph eBooks
Worldreader "aims to put a library of books in thehands of families worldwide, using e-reader technology.

In Education
International Society for Technology in Education and Standards
Classroom Technology (2018)

MARKETING (HOW TO GET FOUND)
How I Sold 1 Million eBooks in 5 Months! (by John Locke)
Amanda Hocking (On why she went with a traditional publisher)
My interview on dot.momming
Marketing - The Snowball Effect (by Elizabeth O. Dulemba)


Where You Want to Be



Book Trailer created using Keynote, by Curtis Sponsler

From eisforbook.com - Loreen Leedy: "If you have a Mac, you can download the Keynote Mac app for $20, create a "presentation" (i.e. trailer) with moving images and text, add the audio in various ways (iMovie is one), then export it to QuickTime and load it on YouTube. The Keynote app gives options that iMovie doesn't have, such as being able to float any font you like across an image."

Kids eBook Reviewers
iPhoneandkids.com (now has a ning community), AppStore HQ, The iPhone Mom, Moms with apps, AppShouter, Wired Magazine

Where to Learn More
Austin, Texas SCBWI "Storytelling in the Digital Age (October 8, 2011)
Southern Breeze SCBWI - WIK (Writing and ILlustrating for Kids) - October 14-15, 2011, Birmingham

Communities
e is for book
eWriting4Kids
#storyappchat


MORE STUFF....
The Battle Over Rights Continues...
Pfeffer Challenges SCBWI to Join the Digital Age (Publishers Weekly)
Amazon + Wylie: REactions from Around the Web (Publishers Weekly)
Legal Battles Over E-Book Rights to Older Books (NY Times)
9 Must-have Clauses for Digital Rights Contracts

Creative Considerations
– iPad's native resolution is 1024x768 pixels - now at 326ppi. Designing at twice that size will ensure clear, tight graphics.
– Apple takes 30% of all app revenue. That should be equated into any negotiations. If the split is 50/50 - that usually means after Apple's take.
– eBooks and Apps are NOT the same thing. eBooks are running text. They can support small images/videos/music/whatever locked into a location within the text. They cannot support full bleed images, hence you do not see the cover of a book when you open an eBook from the iBookstore (you only see it on your 'shelf'). Apps are like mini programs and exist seperately. They can do just about anything, however they are not sold in the iBookstore.
– There are no affiliate programs within the iBookstore or Apple store. So unlike Amazon where you can link to a book and make a small percentage from any sales - you can't with Apple.

My Related Articles (please notice publish dates as things have been changing quickly):
My 1st iPhone/iPad Picture Book App
Technology and Reading - What the Future Holds
Audiobooks Resource List

Press:
Children's Book Apps: A New World of Learning (NPR)
Self-Publishing vs. Traditional Publishing: Which Way Will You Make More Money? (Nathan Bransford)
Dumping print, publisher Nicholas Calloway bets the ranch on apps
Blog: New Ebook Releases, tracking children's book ebook production: Publisher Information Children's Chapter books January 1, 2011 - May 20, 2011
Amazon eBook Subscription? Publishers should join
Consolidating Children's Digital Content: For Better, Or Worse (GeekDad at WIRED)

Tips:
15 Amazing Things You Didn't Know Your Kindle Could Do

Projections:
Barnes and Noble claims ebooks will reign supreme in 2 years
Amazon in Talks to Launch Digital-Book Library (Netflix for books?)

QR Codes:
Using QR Codes to link customers directly to your apps
3 Steps, 4 Ideas, and 18 Tips for Using QR Codes to Promote Your Work



All Artwork © Elizabeth O. Dulemba - Y'all play nice, Okay?